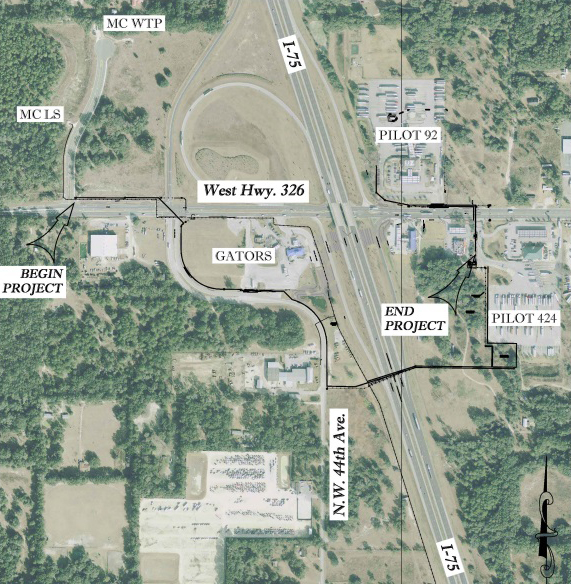 Project Owner & Developer: Pilot Travel Centers, LLC
Project Location: Marion County, Florida
Project Area: 420 LF 8″ PVC WM and 4035 LF 12″ PVC WM
Permitted Through: SWFWMD, FDEP, Marion County
The purpose of this project is to interconnect three existing PWS's by extending an existing 8" Potable Water Main approximately 420 LF to connect to an existing 12" Potable Water Main in CR 326 and then extending that existing 12" Potable Water Main westerly approximately 4,035 LF to connect to an existing 12" Potable Water Main in NW 47th Avenue. Previously permitted capacities and demands would remain the same. The interconnections will be bi-directional, unmetered, manually operated and normally closed at this time without any backflow prevention devices or pressure regulating valves. Additionally, a regional Sanitary Sewer Lift Station and about 4,000 LF of 8" force main was designed and constructed to remove two Travel Centers from their private WWTF's, and expand the service area to accept additional future flows, and connect to an existing manifold system to a Regional WWTF.